Okay, enough already!!! We've had some pretty snowy and windy weather here which means no power. When our power goes out the bane of my existence erupts. The Boiler. When the boiler overheats (lack of power) it spews water everywhere and we have no heat. Luckily we have a generator this year. I have to get it started and switched within 5 minutes of the power going out to avoid overheating the boiler though. The plow guy got a show (not a pretty one) yesterday when I ran out there in a tee shirt and jammy pants to do the generator race. The overheating wouldn't be so bad if everytime it happened we didn't need a plumber to come out and purge our lines which runs about $400 each time. sigh.


Better news though...my bff Krista came up for a visit with her boys. We had a fabulous time chatting the nights away. Ken even watched all 6 kids so we could grab lunch and do some shopping. Isn't he the best??? Above pic, D9 is showing the boys her favorite snow game...how long can you keep your face in the snow. Yeah, why play with toys when you can plunge your face in snow?!?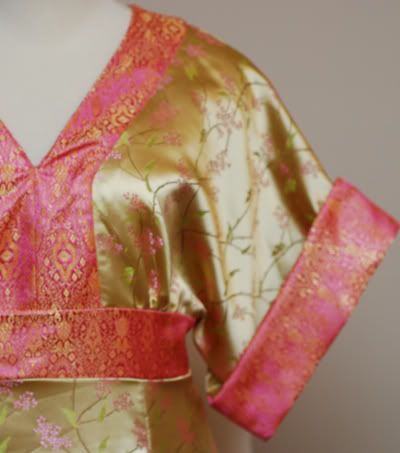 Thankfully power was restored about 9 p.m. last night and I was able to work on my New Years dress. A duro dress made with brocade. It is a trial run for the dress I need to make for Ken's formal Xmas work party. I had ordered a gorgeous red dress from Coldwater Creek but it was too big and now I don't have time to reorder. I am going to make the duro dress in red silk with black velvet for the bands. I had some trouble with the bands not lying correctly on the brocade. I'm hoping it'll work better with the silk.
Drawing prizes have been sent to Pam and Natalie so keep an eye on the mail ;-)